Gain Market Clarity
with Behavioural Analytics
Make data-driven investments powered by community insights, on-chain, social and dev data
As seen on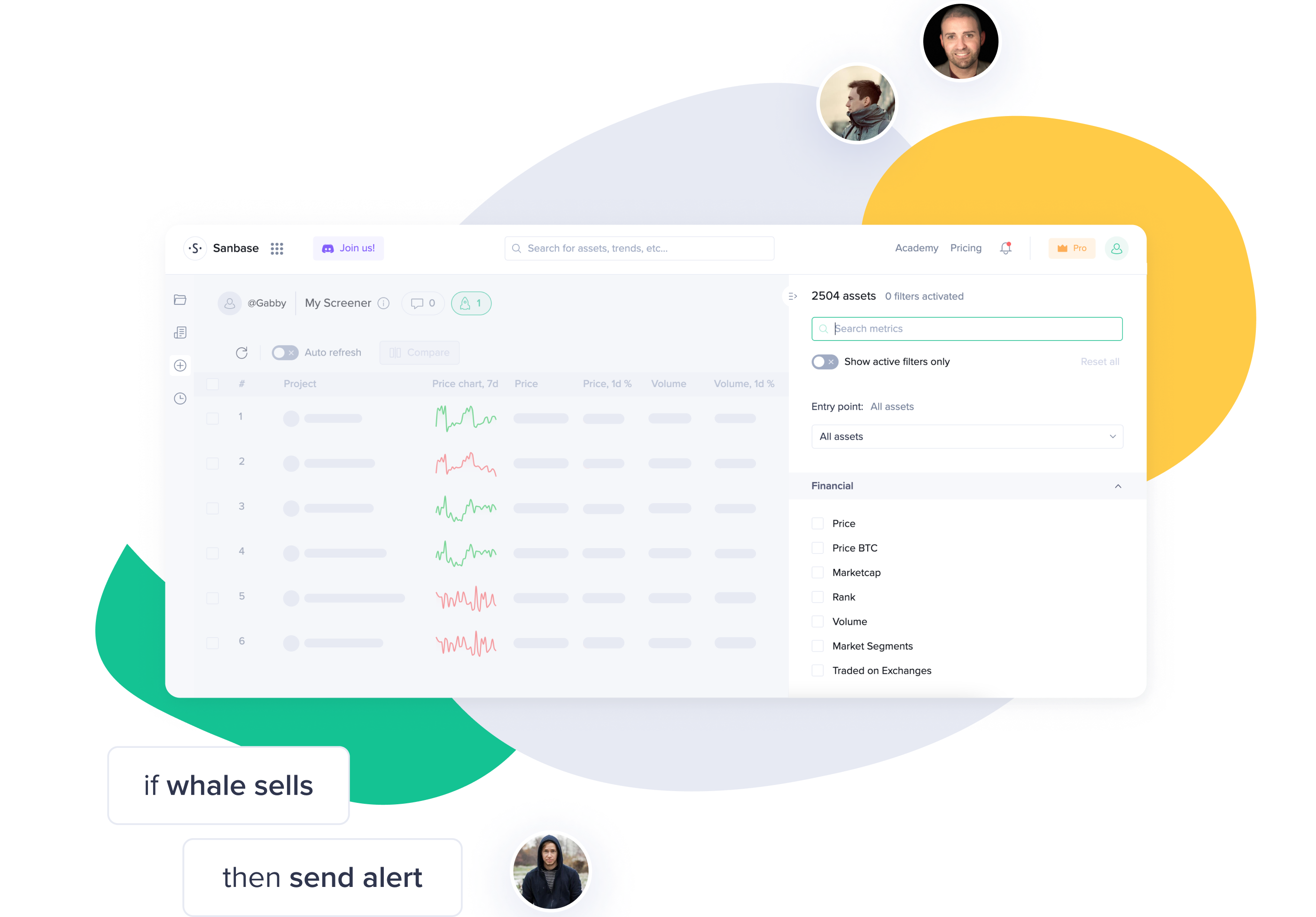 All-in-one platform
Crypto intelligence tools
Since 2016, Santiment has produced a platform to research crypto data intelligence tools for hedge fund managers, retail investors, crypto project owners, and NFT creators.
Financial
datasets
On-chain
datasets
Social
datasets
Available crypto assets

1954+

Available metrics

731+

Available wallet labels

22

Parsed social messages per month

7+ million

Available blockchains

5

Historical data since

2009
Crypto analytics
to make data-driven decisions
Profitable trading decisions are based on metrics and market analysis. Discover new investment opportunities by finding answers to all your trading questions.
Social metrics
What are people talking about in crypto?
Take a look at crypto market social trends and sentiment charts
On-chain metrics
Are traders in profit or loss territory?
Study aggregate investor behaviors as price moves to/from their cost basis
Stakeholders metrics
Are whales accumulating or dumping?
See asset holder distribution, top holders, and whales transaction tracking tools
NFT metrics
Is my NFT collection getting more popular?
Get to know how often people are mentioning your NFT Collection
See what our users are saying
Ready to get started?
Start using Santiment for free, and explore all the tools and services you need to make better financial decisions. No credit card needed
Explore our prices
Get the most out of our advanced metrics and access the private community
Start your data integration
Integrate our social, on-chain and financial datasets with your data lake or quant pipeline